Oaks and Roses by Anuj Bhutani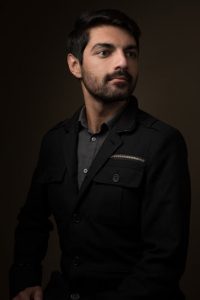 Anuj Bhutani is quickly emerging as a versatile composer for the concert stage, dance, and film. In 2020 alone, he won 1st prize in Cerddorion Vocal Ensemble's Emerging Composer Competition, and held fellowships at Nick Photinos' string workshop "1:2:1", Arts, Letters & Numbers, and The Walden School. His work was also selected for the Norfolk Chamber Music Festival, SCI National Conference, SCI Student Mixtape, New York City Electroacoustic Music Festival, and Electric LaTex Festival. In 2019, he was commissioned by Inversion Ensemble as part of Carlos Corderos' inaugural Happy Composer Commissioning Project. He is currently scoring his first independent feature film "Addict Named Hal", directed by Lane Michael Stanley.
He is pursuing bachelor's degrees in composition and music theory at the University of North Texas. He received an Undergraduate Research fellowship (2019-2020) to write about musical process/glitch in the work of David Lang under the guidance of Dr. David-Bard Schwarz. He serves as the Undergraduate Vice President of UNT Composer's Forum and his primary teachers have included Andrew May, Sungji Hong, Drew Schnurr, and UNT Composer-in-Residence Bruce Broughton. He also holds a BA in Psychology from UT Austin, where he graduated with High Honors and a Presidential scholarship in 2015.
Program Notes
"For everyone who knows the pain of having lost a loved one."
Links
Website: www.anujbhutani.com
Facebook: https://www.facebook.com/anuj.bhutani.1
Infinity Net by Pak Hei (Alvin) Leung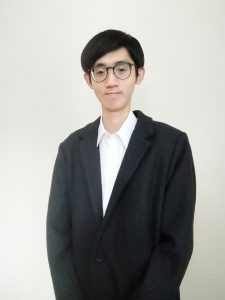 Pak Hei (Alvin) Leung is a composer born and raised in Hong Kong. His compositions have been played by various music groups, such as Duo Zonda (U.S.), Trio Mythos (Italy), Music-Joint Association (Hong Kong), Hong Kong Wind Kamerata, Hong Kong Chinese Orchestra, Contrast Trio (Hong Kong), Hong Kong Saxophone Ensemble and Romer String Quartet (Hong Kong). His works are featured in or scheduled for ICMC 2021 (Chile), Charlotte New Music Festival 2020 (U.S.), Letters for Others online exhibition (U.S.), Earth Day Art Model 2020 (U.S.), highSCORE Festival 2018 (Italy), as well as New Generation 2014, 2016 & 2018 (HK).
Alvin is currently a Master of Music student majoring in Composition at Bowling Green State University. His principal teachers include Marilyn Shrude, Christopher Dietz and Mikel Kuehn. He received the Bachelor of Arts in Music with First Class Honor from the Chinese University of Hong Kong (CUHK), where he studied composition with Victor Chan Wai-kwong, Wendy Lee Wan-ki and Lo Hau-man. Before that, he was a composition student of Ricky Tse Kin-chuen.
Program Notes
Infinity Net is a composition journey, and a listening experience, that explores the many possibilities of granular synthesis, spatialization, and the contrasts between self and the universe., inspired by the art works and life experience of the Japanese artist Yayoi Kusama (b. 1929). The title of the piece comes from an early series of paintings by the artist, which contains an overwhelming amount of tiny pots obsessively spread through canvas of gigantic sizes, thus creating an illusory and immersive visual experience to the audience. Infinity Net is also the title of Kusama's autobiography, in which she recalled her psychiatric experiences – repeatedly and obsessively drawing polka dots over and over again as a way to therapise her illusions and anxiety.
Links
Website: https://www.alvinleung.com/
Soundcloud: https://soundcloud.com/alvinleungph
YouTube: https://www.youtube.com/channel/UCwTnIODq3uu43AjLuphpfRg
Facebook: https://www.facebook.com/alvin.leung.779
Instagram: https://www.instagram.com/alvinleungph/
An Alley in the Rain by Qingye Wu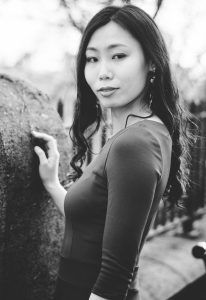 Qingye Wu was born into a musical family in China. In 2013, Qingye enrolled in the Cleveland Institute of Music, where she studied composition with Keith Fitch, piano with Daniel Shapiro. In 2018, Qingye enrolled in the Cincinnati College-Conservatory of Music. Her teachers at CCM are Douglas Knehans and Michael Fiday for composition, and Michael Unger for Harpsichord. She is currently a DMA student of composition in CCM.
Program Notes
An Alley in the Rain is composed in 2015. The piece is inspired by walking in the rain and imagining there is an endless alley that I could keeping walking on. This piece reflects my wish of having massive time to thinking and be in my own world.
The form of the entire piece is clear and the material that used in the work is succinct. However, the overall mood of the work is hazy and abstract.
Links
Website: qingyewu.com
Somatic by Jane Meenaghan
Jane Meenaghan (age 19) is a sound artist, composer, cellist, and incoming freshman to the Columbia-Juilliard Program who frequently seeks to synthesize, recontextualize, and dichotomize diverse aesthetics in hybrid electroacoustic soundscapes. Her works embrace the dimensionality of sound and theatricality of performance to deliver visceral, multisensory experiences. She has received top honors from ASCAP, BMI, National YoungArts, and others, and she has worked with ensembles including Los Angeles Philharmonic, International Contemporary Ensemble, and Kaleidoscope Chamber Orchestra.
Program Notes
Somatic immerses the listener in a sonic reproduction of my experience of somatic therapy, which resolves trauma by connecting with its physical symptoms in the body. Each session, I would close my eyes and tap into a world of sensations occurring quietly throughout my body, and each time, I noticed this same faint sense of pain in my stomach — as I grew experienced, I became increasingly aware of an overwhelming emotion buried there. In Somatic, I set this internal sensory world to the electronics, deriving the entire soundscape from a single sample of a bell being struck. The overwhelming emotion manifests as massive clusters of bell sounds that begin muffled — like scratches at the surface of trauma — and grow louder and clearer with each return, driving the light music of the somatic world to unravel. As in real life, peace is reached only after the emotion is endured in its entirety.
Links
Soundcloud: https://soundcloud.com/user-561670605
Sometimes by Maxwell Addae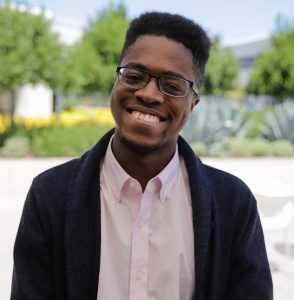 Max Addae (he/him, b. 1998) is a composer, vocalist, arranger, and creative programmer from Bloomfield, New Jersey. He is entering his 5th year at Oberlin College & Conservatory as a Double Degree student in Computer Science and Technology in Music and Related Arts (TIMARA), studying with Dr. Eli Stine. Max's work explores the intersection of computer programming, human-computer interaction, and electroacoustic performance/composition — he sees technology and software as an immensely powerful tool for extending the ways musicians create, teach, and interact with music and sound.
Max has performed in a variety of vocal ensembles, including the Oberlin College Choir, the Oberlin Obertones, and Sourgum: Experimental Vocal Chamber Ensemble; given his extensive background in vocal music, he feels right at home writing for other vocalists! He was recently selected as the 2020 Presser Scholar recipient by Oberlin Conservatory, and his original work and sound design has been featured in the Danenberg Honors Recital, the Collaborative SōSI festival, and various Oberlin theatre productions.
Program Notes
Sometimes (2019) is a piece for vocal chamber ensemble and live electronics inspired by (and in tribute to) Olly Wilson's Sometimes (1976) for tenor and tape. Olly Wilson was one of the founding members of Oberlin's TIMARA department, and with his passing in March 2018, I wanted to ensure his compositional and educational legacy was honored at Oberlin's Kaleidosonic Music Festival in November 2019. The piece incorporates bits and pieces of the original melody, accompanied by varying vocal textures, including direct harmonization, hissing/whispering, and other extended vocal techniques. Given the original is also based on the Negro spiritual, Sometimes I Feel Like a Motherless Child, the piece also incorporates elements of call-and-response and improvisation traditional to the Africana aesthetic. To further develop the immersive sonic world, the vocal parts are then spatialized throughout a speaker array using the spat5 Max external, to further play with the distinction between its "traditionally choral" elements and the extended techniques.
The recording is from the piece's premiere, performed by the Oberlin College Black Musicians' Guild. The 16-channel diffused file was encoded with Ambisonic UHJ formatting in order to simulate the spatialization in stereo.
Links
Website: http://www.maxaddae.com/index.html
Facebook: https://www.facebook.com/maxwell.addae.5
Instagram: https://www.instagram.com/maxlovesmusic/
Irreversibility by Ramin Roshandel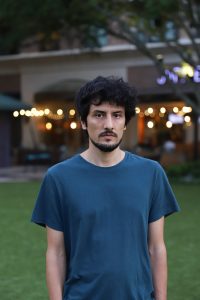 Ramin Roshandel's compositional work is based around incorporating 'experience' as a fundamental concept through a non-experimental approach in performance. Considering phenomena such as instability, cultural identity, and communicational language on one hand, and being inspired by Iranian music microtones as a setār (an Iranian instrument) player on the other, has led him to consider indeterminate, improvisatory, and abstract structures in his music to contrast or converge with post- or non-tonal forms.
Roshandel has performed as a setār soloist in the premiere of Jean-François Charles' opera, Grant Wood in Paris. Additionally, he was awarded a 2019 University of Iowa Digital Scholarship and Publishing Studio summer scholarship and is a New Music on the Point alumnus. His pieces have been performed by The JACK quartet and LIGAMENT, as well as at the Midwest Composers Symposium (MCS) and the Exchange of Midwest Collegiate Composers (EMCC).
He is currently in his third year as a doctoral student in the Composition program at the University of Iowa, where he has studied under Josh Levine and Sivan Cohen-Elias and currently working with David Gompper. He holds a Master of Arts degree in Music Composition from the University of Tehran and a Bachelor of Arts in Iranian Music Performance from Tehran University of Art. His articles on Hossein Alizadeh's Neynavā and Elliott Carter's Dialogues have been published in Persian journals.
Program Notes
An object is considered from a continuously-displaced vantage point. The eye fixates first on salient nodes, but virtual elements soon invade the field of perception, propelling a measured dissolution of the inert material into an unstable texture, within which ideas spawn, spin, and slip off of the gloss of transience. Yet the eye pauses—contemplates certain vertical configurations, prescribes a space for a substance to roil in the act of appraisal. Slowly, an image re-emerges out of this ponderous disassociation, and the eye drifts beyond the temporal boundary to admire its own act of reduction. –Alexander Nathan Toth
Links
Soundcloud: https://soundcloud.com/ramin-roshandel
Impulse by Nathaniel Heyder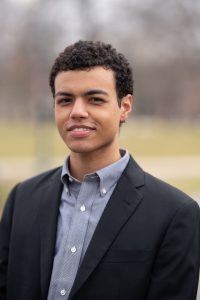 Nathaniel Heyder is a composer and violinist currently residing in Cleveland, Ohio. Throughout his musical career, he has been involved in various music festivals and ensembles as both composer and performer. He has served as concertmaster of the Eastern Music Festival Orchestra, the DC Youth Orchestra, and the Interlochen Arts Academy Orchestra. Nathaniel has also recently attended the Luzerne Music Center, the National Symphony Orchestra Summer Music Institute, and the Atlantic Music Festival. Recognition for his compositions include the YoungArts Merit Award (2017), the Neil Rabaut Memorial Composition Scholarship from the Interlochen Arts Academy, and one of the 2017 NextNotes High School Composition Competition winners, presented by the American Composer's Forum. Most recently, he was awarded the 2019 Donald Erb Prize in Composition from the Cleveland Institute of Music, where he currently attends. He studies composition with Keith Fitch and violin with Joan Kwuon.
Program Notes
I titled this work Impulse for the jolty and exclamatory nature of the music that makes up much of the piece. The interjections in the first section are meant to have a kind of improvisatory nature to them. This music is intended to be argumentative, as if the voices are fighting to speak one the other. As the different instruments play in rhythmic unison, they still play completely and seemingly unrelated lines, which I hope gives the music an organized but at the same time, anarchic feeling. The slower sections are a bit more regulated. Here, while still argumentative, the interjections of the instruments are more conversational, as the instruments are given the chance to make their personal statements, uninterrupted from the others. I like to think of the material in this piece similarly to the way we say or do things in the heat of the moment. Each gesture in the piece can be thought of with this feeling of spontaneous, off the top, almost eager intuitiveness.
Links
Soundcloud: https://soundcloud.com/user-721740328
Drifting by Corey Dundee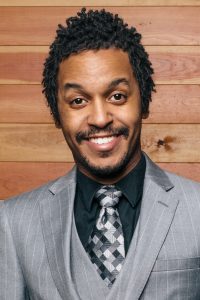 Ann Arbor-based composer and saxophonist Corey Dundee composes music he describes as "rhythmic ridiculousness written in a quasi-atonal yet esoterically functional harmonic language." Critics have essentially said as much in far less flowery English, characterizing his sonic aesthetic as "trippy dream music" (casual university acquaintance) and "falling down a black rabbit hole" (six-year-old concert-goer in Norfolk, CT). Recently named Honorable Mention for MTNA's 2018 Distinguished Composer of the Year award, Corey was also a Finalist for the 2018 Cortona Prize, as well as a recipient of Chamber Music America's coveted Classical Commissioning Grant in 2016. He has undertaken an Artist Residency at the Kimmel Harding Center for the Arts in Nebraska City, and his music has been commissioned by performers and ensembles including the Akropolis Reed Quintet, Chamber Music Tulsa, Front Porch, the Michigan Music Teachers Association, the Spatial Forces Duo, the Norfolk Contemporary Ensemble, and the Taos Chamber Music Group. Corey is currently a Graduate Student Instructor at the University of Michigan in Ann Arbor, where he has achieved candidacy for the DMA Composition degree. He additionally holds an MM Composition degree from the University of Southern California, and BM degrees in Composition and Saxophone Performance from Indiana University.
Program Notes
Drifting is inspired by the poem "The Lake: Coda" by Tom Clark.
Last night I dreamt I saw
Your face in the lake I hid till
With the sun the small
People in the lake awoke And shook
The dew from their silk jackets
Aloft to flowers and grasses
Like a morning lamp, and swept
Sleep from the woods with wings
Like tiny brooms Until the ways
Of the minor world glowed
With traffic in each inch, and day
Rung from pool to hilltop like a bell
You live with the pale and weak
And meek ones in the mud
To whom the keys of the air are given
And lights rising throne on throne
Links
Website: http://www.coreydundee.com
SoundCloud: https://soundcloud.com/coreydundee
Tish by Daniel Gayden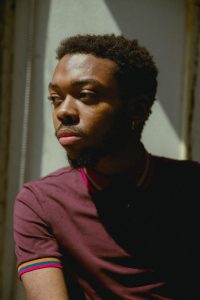 Daniel Gayden is a Chicago-based drummer + composer, where he maintains a busy schedule as a freelance performer and student. Drawing influences from the artist(s) Solange, Frank Ocean, Nate Smith, Jamire Williams, Elvin Jones, and Tony Williams, Daniel is quickly becoming one of the most vibrant sounds on drums by fusing his depth of tradition with the fresh new waves of the Chicago music scene.
Daniel is currently a student at Western Michigan University, where he studies Jazz Studies Percussion. As a participant at the prestigious 2015 Jamey Aebersold Jazz camp in Louisville, Kentucky, Daniel performed alongside musicians such as Jamey Aebersold and Chris Potter. Between Fall 2014 and Summer 2015, Daniel drummed as a Raviana Jazz Scholar, where he rigorously studied the language of jazz, improvising and honing the skill of communicating with fellow musicians in a bandstand setting.
Throughout his young career, he has performed and studied with an accomplished array of musicians, including Billy Hart, Greg Hutchinson, Ramsey Lewis, Keith Hall, Charles Heath, Ernie Adams, Ramsey Lewis, Jamey Aebersold, Bobby Broom, Willie Pickens, Pharez Whitted, Pat Mallinger, John Proulx and others.
After his scholastic career, Daniel plans to create an artistic complex for inner city youth, as well as collaborating on projects that shine light on the society in which he lives.
Program Notes
Tish (2019) is the third movement from my suite Pieces of Color: The lives of Black Males. In November 2019 I premiered Pieces of Color, based on four emotional states of the African American man in society: The birth, realization of societal role, development of love, and one's legacy. Tish is the movement dedicated to love. African American men are often depicted as, especially in US media historically, as amoral or animalistic. I wanted to evoke an emotional color pallet through a soft simple melody, with a luscious harmonic experience. Colors and visuals are main components in my compositions, and the color blue was my inspiration for this particular tune. I wanted the audience to experience Pieces of Color similar to a film. This is the chapter of the story where the audience sees the protagonist's vulnerabilities. Their compassion and longing for an emotional acceptance.
Links
Social Media Link: https://linktr.ee/DANIELGAYDEN