---
6. Before you Run… (Caitlin Santos)

---
Chorus by Austin Franklin (he/him)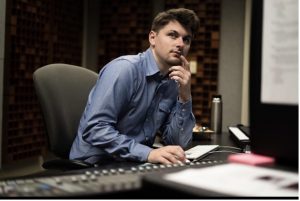 Austin Franklin is an internationally recognized composer and sound artist based in Baton Rouge, LA where he is currently pursuing a PhD in Experimental Music & Digital Media from Louisiana State University. His interests include music involving process, such as algorithmic composition and music incorporating machine learning technologies. His latest album, Four Idols, has been described as "an elegant, artistic statement that demonstrates the flexible possibilities of electronic music" (The Sybaritic Singer). Austin has several pieces for percussion published through C-Alan Publications and his music has been performed throughout North America, South America, Europe, and Asia. He is the recipient of several awards and commissions, including the PARMA Winter Call for Scores, the Dead Resonance Call for Aleatoric Scores, the Sound/Sight Art Collaboration, the First Annual LSU Composition Competition, CNME Call for Scores. His music has also been selected for festivals and conferences such as the New Music on the Bayou Festival, Splice Institute, NYCEMF Festival, WOCMAT, Alba Music Festival, Society of Composers Incorporated, and Electric LaTex. Austin has presented research at the Web Audio Conference (2021) that explores using Web API's as the basis for designing digital instruments, and at the New Interfaces for Musical Expression (2019) Conference that involves simultaneous auditory and vibrotactile stimuli. His String Quartet No. 1 "Lanterns" was also recently aired on the Viva 21st Century 50/50 Marathon on Classical Discoveries with Marvin Rosen.
Program Notes
String Quartet No. 1 "Lanterns" was inspired by a poem written by the American poet, novelist, and short story writer Stephen Crane entitled "Each Small Gleam was a Voice". From my understanding, this poem creates a world in which sight and sound are intrinsically linked, connected by our inability to perceive either independently from the other. Throughout the poem, Crane continuously creates a world in which sounds are only capable of being described through the use of color. One line in particular, "Little songs of carmine, violet, green, gold.", is repeated several times throughout the poem. This is particularly important, because each of these colors describes a distinct musical element from which the work was created. The piece opens with carmine, or rather, a chord progression built entirely from minor 6th intervals that repeat after ever four chords. These chords control the harmonic language of the entire piece, sometimes rather obviously or aggressively, and at other times disguised and completely hidden from view. The color violet is the interval of a minor 3rd, which appears sparingly throughout the first movement only as a harmonic motif and then builds in intensity throughout the second movement to help create the final climax, from which the piece concludes. Green is the sound of the major 2nd, which makes its appearance in the 2nd movement to create a more lyrical contrast in context of the work as a whole. Lastly, gold is the color of volume. This repeating sonic figure throughout the work is one that dynamically fades into its loudest point before fading out again. This is meant to represent a specific moment in the text, "a lantern voice", in which you see the diffusions of light fading out on either side from its source.
Links
Website: austinfranklinmusic.com
Facebook: https://www.facebook.com/AustinFranklinMusic
YouTube: https://www.youtube.com/channel/UC508iu8ldTK-r1l9RDSzbcA
When I Rise Up by Ethan Gonzalez Soledad (he/him)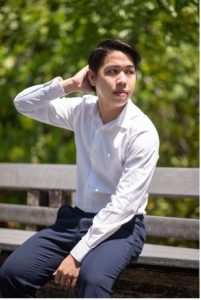 Bold, dramatic, with an exquisite attention to detail, Ethan Soledad (b. 1999) is a composer whose work aims to express emotions in their most raw form. An experienced singer, he incorporates drama in his work, emphasizing the importance of silence and one's perception of time. Ethan's music draws from a wide palette of compositional styles and colors ranging from impressionism and neoclassicism to post-minimalism and the avant-garde. His musical style is marked by unapologetic expression, dynamic extremes, and the ability to do more with less but never shying away from doing more with more. He is the grand prize winner of the 2021 Stephen Paulus Emerging Composers Competition for his piece for choir, cello, and piano "When I Rise Up" and the 2019 Rachel Moore Choral Composition competition with his piece "The Beauty of Cosmic Things."
Program Notes
The poem "When I Rise Up," written by notable African American poet and playwright of the Harlem Renaissance, Georgia Douglas Johnson, speaks of the author rising high above those who would attempt to hinder her. The fluttering cello and piano parts of the opening phrases depict birds as to symbolize Johnson literally soaring up to the clouds beyond the ties of the Earth. The final ending sequence calls back to the beginning when the choir repeats the phrase "When I rise," but now it has turned into "I rise" symbolizing an immediate and almost apotheotic ascent. The final quasi-cadenza is taken up to the absolute highest note on the piano, representing Johnson's ascension far beyond the grasp of anyone who has ever tried to impede her.
Links
Website: https://ethansoledad.com/home
Excuse Me! by Rob Bowden (he/they)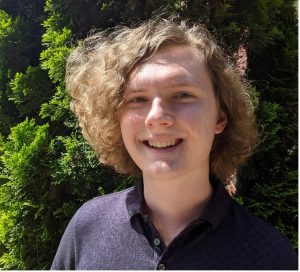 Rob Bowden is a composer, songwriter, and storyteller from the suburbs of Atlanta, Georgia. A member of the University of Georgia's Dancz Center for New Music, Rob writes with an intent to challenge himself as a composer, the performers of his works, and the state of contemporary classical music. His compositions often feature rhythmic energy, dark sonorities and themes, and a sense of forward motion. Currently pursuing a bachelor's degree in music composition, Rob plans to continue his education through graduate school with hopes of teaching composition and/or music theory at the collegiate level.
Program Notes
Excuse Me! follows the narrative of three friends gathering together for a dinner party which quickly turns for the worse. Written in scenes designed to reflect the nature of the night's conversation, this piece explores various social situations and emotions, including pleasantries and small talk, passive-aggressive silences, and insincere apologies. Over the course of the meal, the cellist becomes fed up with the flutist's dominance over conversation, leading to an eventual eruption of frustration and consequent argument between the two players, notated using written word rather than traditional musical notation. During their squabble, the party host, the pianist, reflects upon all that happened throughout the night, attempting to figure out where things went wrong. The piece ends with the pianist left to clean up after her guests, exhausted by the entire exchange.
Links
Website: https://hedoesmusic.wixsite.com/robbowdencomposer
YouTube: https://www.youtube.com/channel/UCzwPaGGmEbfvlaJQzUjPuFw/featured
SoundCloud: https://soundcloud.com/hedoesmusic
Instagram: https://www.instagram.com/rob.bow.den/
Duality by Thomas L. Wilson (he/him)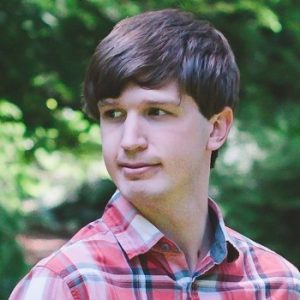 Thomas L. Wilson's fascination with sound began when his family purchased an old Atari console for $10 at a garage sale just one street behind his home in Birmingham, Alabama. As a child, he sat for hours playing the outdated technology and hearing rudimentary electronic boops and beeps, sometimes as music, emerge from the tube television. His musical discovery began when his family received a hand-me-down upright piano. While sitting at the well untuned piano, emblazoned by engravings of initials and games of tic-tac-toe from the prior owners, he taught himself to read familiar music, specifically music from video games. Thomas then began creating and sharing arrangements of video game music online before turning his arrangements towards compositions. After joining the school band and having a fortunate encounter with music theory, he began his journey towards becoming a video game and stage composer.
Thomas is the Adjunct Instructor of Music Theory at Louisiana Tech University and a Ph.D. Candidate in Music Composition at LSU with a minor in Experimental Music and Digital Media. He received his M.M. and B.M. in Music Composition from The University of Alabama. Prominent mentors throughout his studies include Mara Gibson, C.P. First, and Yotam Haber. Thomas enjoys collaborating internationally with performers, including at conferences and festivals such as the Society of Composers Inc. National Conference, the SPLICE Institute, Atlantic Music Festival, highSCORE Festival, and ArtPlay Festival. His thesis The Reflections of My Introverted Sneakers can be found on the album Early Musings: New Music for Violin performed by Davis Brooks and released through Navona Records. Prominent performances of the work include the Electronic Music Midwest Festival, New York City Electronic Music Festival, and National Student Electronic Music Event. Reflections was also broadcast on WPRB's Classical Discoveries in the setlist "Music of the Americas – Part 1" on November 23, 2016.
As an avid pedagogue, Thomas enjoys spreading knowledge in as many ways as possible. His teaching style creates a welcoming environment for students from diverse economic and social backgrounds. At Louisiana Tech, he led asynchronous remote studies that prioritize students creativity in the studies of Music Theory and Music & Sound for Video Games. When mentoring in composition, he prefers to lead students towards self-discovery and self-sufficiency in their creative outputs. He tutored his peers in music theory in his undergraduate work before teaching aural skills as a graduate assistant during work towards his master's degree. He also tailored a self-designed composition lab designed for early majors and minors at LSU.
Since he places high value towards the communities he resides, Thomas is always eager for performances outside of the concert hall. Thomas's music can be heard at arboretums, libraries, museums, and any other receptive venue. Outside of work, you can find Thomas on the weekends playing video games and board games with his wife, friends, and four pets.
Program Notes
Duality (2020) reflects the pulling directions the composer has experienced. Throughout the work, many seemingly opposing elements occur simultaneously or back to back, but in apparent calm. As the composer struggled with their own place in the world, they wondered if there was a single answer or if it were Duality.
Links
Website: thomaslwilson.com
Facebook: http://facebook.com/wilsoncomposer
Twitter: http://twitter.com/wilsoncomposer
YouTube: http://youtube.com/channel/UCnS8Z2FaoXd6M4k79eHzbqw
Fever Dream by Benjamin Koller (he/him)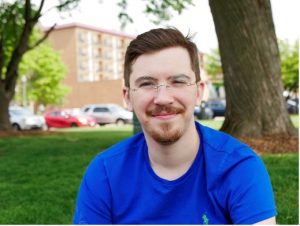 Benjamin Koller (b. 1999) is an award winning composer residing in Miami, Florida. Koller's output is influenced by his interest in generative processes, improvisatory performance practice, theatre, vocal music, and electroacoustic composition. His output represents a variety of instrumentations, including music for soloist, chamber ensemble and large ensemble, as well as electroacoustic works.
Koller's sinfonietta Meza Muziko was awarded honorable mention in the annual Ibis Ensemble Composition Competition at the Frost School of Music. Additionally, Koller has written for a variety of performers and ensembles throughout different workshops and festivals across the United States, including the Charlotte New Music Festival, Hypercube Composition Lab, and the Oregon Bach Festival Composer Symposium. Recently, his work Fever Dream for alto saxophone and electric guitar was recently performed by the Hypercube ensemble as part of the Hypercube Composition Lab in 2020. Additionally, his work Recollection of a Sunday Evening was written for and recorded by loadbang as part of the Charlotte New Music Festival. Koller is actively involved in collaboration across various artistic mediums. In recent years, Koller has worked with other composers/performers to create sound installations accompanying visual art at the USF Contemporary Art Museum. He also participated in the Identity and the Art of Introduction Workshop, led by artist Nick Cave, in which Koller worked with dancers and other performance artists in a collaborative setting.
Koller actively seeks to promote new music and living composers, and has served as the Public Relations Director and Logistics Coordinator for the New Music Consortium at the University of South Florida. Koller received his Bachelor's degree in acoustic composition and electronic music at the University of South Florida, and is currently pursuing his Master's degree in music composition at the Frost School of Music at University of Miami. Previous and present composition teachers include Dr. Benjamin D. Whiting, Paul Reller, and Dr. Baljinder Sekhon.
Program Notes
Fever Dream was written for Hypercube's Erin Rogers (alto saxophone) and Jay Sorce (electric guitar) in conjunction with the Hypercube Composition Lab in October 2020. Much of this work was conceived through exploring the sonic contrast and potential timbral combinations between the alto saxophone and electric guitar.
Links
Website: http://www.bkollermusic.com
Social Media Links: https://linktr.ee/bkollermusic
Before You Run… by Caitlin Santos (she/her)
Caitlin Santos (b. 2000) is a local composer, worship leader, and musician in the Metro-Atlanta area. She is currently pursuing her BA in Music Composition and certificate of Music Business at the University of Georgia. Caitlin's primary instruments are horn, bass, and guitar, but she also enjoys playing keys, drums, and mandolin. Her fluency in these instruments has allowed her to be a highly active musician in her community as the bass player for her band, The Dazy Chains, and the horn player for her Embolden Trio group, and the founder of the LatinX Student Composer Alliance.
Her father was and has always been a major influence on her music and its application to technology. Because of this, Caitlin has a fond experience in building guitars. One of her proudest achievements was designing and building a 1958 Chevy-inspired Telecaster with her father and grandfather. Since then, she has continued to explore the realm of guitar luthiery through her education and "free time." Since 2016, Caitlin has built two Telecaster models: The Dreamcaster and the Ridgecaster, and has helped work on upgrading three various guitar bodies. Most, if not all of her recordings and guitar compositions feature one of her custom guitars.
Caitlin has always found many opportunities to learn through her work in the church. One of those is production and production management.  She has learned under many production directors in order to master digital/analog boards, ProPresenter, and lights. In addition, Caitlin has also served over eight years as a worship leader for four different church congregations in both Atlanta and Athens. In 2012, she founded the first-ever children's worship ministry at Gwinnett Christian Life and used that to educate younger students on music ministry and leadership.  Through these experiences, she hopes to one day travel on the road as a production director or start a non-profit organization that exposes inner-city children to the wide possibilities of the music industry and music technology.
Aside from music, Caitlin enjoys all things chocolate, playing with her Great Dane, Charlie and of course, cheering on the Dawgs.
Performance Notes
My inspiration for the creation of the piece, Before You Run…, comes from my abuelita, who is currently located in San Salvador, El Salvador. My abuelita is one of the few female ministers of the Lutheran church in El Salvador and currently serves as a reverend for two congregations. Throughout her experience as a minister, she has seen many people fall under the pressures of gang violence and eventually flee the country. She, along with a team of other ministers in El Salvador, have made it one of their missions to prevent families from leaving by educating and presenting different options for asylum. The book I am using is one of three used in schools and churches to educate children and their parents.
The mission of the published children's book, Pasos y Huellas, is to inform Central American families of the real dangers that come with the journey to America. The intent was to create a piece that brought the text to life and brought a new perspective on the topic of refugee asylum. The piece consists of two movements: The first being why families want to flee the country and the second being the actual journey to America. The voices heard throughout the piece represent the countless families and people who have to confront these difficult decisions – to stay or run.
Links
Instagram: @santosc623
LatinX Student Composer Alliance: @latinxstudentcomposers
---
Adjudicators
Melissa D'Albora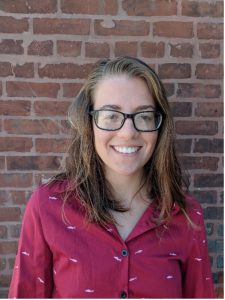 Melissa D'Albora's works have been performed throughout the United States and Canada.  One of her later performances was her work Vicious Cycle at the Music by Women Festival in Columbus, Mississippi on March 7, 2020.  She has received many commissions since January 2018 for professional performers as well as educational programs like the Frost Preparatory Program, Walter C. Young Middle School String Orchestra and Coral Gables Senior High School Chamber Orchestra.  Along with her commissions, Melissa was Seraphic Fire's resident composer during their 2019-2020 season.  She has had readings of her works by various ensembles including members of the Cleveland Orchestra and Robert Black.
Melissa is currently earning her D.M.A. in Composition at the Frost School of Music under the guidance of Dr. Dorothy Hindman.  In addition to her studies, she teaches Experiential Musicianship to the Frost undergraduates.
Melissa holds two Bachelor of Music degrees in viola performance and composition at the University of Connecticut.  She received her Master in Music Composition at the University of Miami Frost School of Music.  Her composition mentors have been Dr. Kenneth Fuchs and Dr. Charles Mason.  She has also had lessons with Frost resident composers Dr. Augusta Read Thomas, Dr. Christopher Theofanidis and George Lewis.
Website: http://www.melissadalbora.com
Logan Rutledge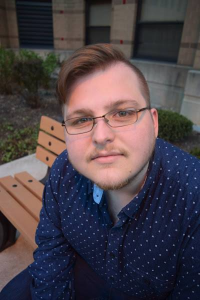 Logan Rutledge is a composer of contemporary classical music that hails from Gainesville, Florida. Rutledge holds a Bachelor of Arts degree from the University of Illinois at Chicago where he studied with Marc Mellits and a Masters of Music from the University of Miami where he studied with Charles Norman Mason. Currentlly Rutledge is pursuing a Doctor of Music at Indiana University studying with Don Freund.
Rutledge's compositions have been played and performed by members of the H2 Sax Quartet, Fulcrum Point New Music Project, L+M Duo, Lakeshore Rush Ensemble, Akropolis Reed Quintet, Beo String Quartet, Kaleidoscope Mus Art, and Project Fusion, among others. In the winter of 2017, Rutledge won a Merit Award from the Tribeca New Music Composition Competition. In the spring of 2017, Rutledge received a performance of "Out of My League" for two soprano saxophones by the Fulcrum Point New Music Project in Chicago, Illinois as a feature on the Emerging Artists Series. In the summer of 2017, Rutledge was named a Composition Fellow at the Bennington Chamber Music Conference, work-shopping a new commission for Oboe Quartet and studying under Donald Crockett. In September 2018, Rutledge's "Stretch Marks" was selected to be performed as part of the Kaleidoscope Mus Art Odyssey series, and in November 2018, Rutledge was selected as the winner of the graduate division of the University of Miami in house Ensemble Ibis Composition Competition. Rutledge's work There was nothing to say, and we said nothing, was selected by the Limitless Collective's call for scores to be performed on their 2020-21 season.
Rutledge has been fortunate to have commission rom such ensembles as the Nomad Quartet, University of Wisconsin-Milwaukee Percussion ensemble, Miami University Bassoon Quartet, Smax Duo, and the Grand Valley State University New Music Ensemble. Current commissions include a duet for Oboist/English Hornist Daniel McTierman, Rochester's fivebyfive ensemble, pianist Maria Siesky, and the Konrta Duo.
Website: https://loganrutledgecomposer.com/
Emily McPherson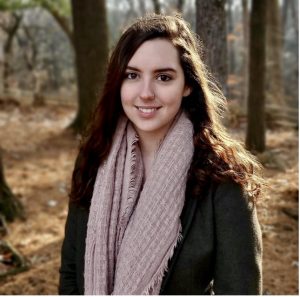 Emily McPherson is a composer currently based in State College, Pennsylvania. Her work includes a wide variety of instrumentation across different styles including solo, large and small chamber ensembles, large ensembles, and electronics via fixed media and live electronics.
McPherson's works have been performed throughout the United States and internationally in Xi'an, China. Her music has been honored and awarded at festivals, events, and publications such as Yarn/Wire Institute, Electronic Music Midwest, NASA Region 5 Conference, Research on Contemporary Composition Conference, International Composition Competition for Electronic & Electroacoustic Masters Vol. 1, Performing Media Festival, She Can, We Can: Beyond the Women's Suffrage Centennial (2021), Alba Composition Program (2021), and SPLICE Institute 2021.
Timbre is the backbone of her compositional interest. Her work often expresses emotion through slow changing textures. McPherson works towards creating materials that lend themselves towards disciplines such as art, dance, and video.
Emily holds her BM in Music Composition from Bowling Green State University where she studied with Drs. Elainie Lillios, Mikel Kuehn, Marilyn Shrude, and Christopher Dietz. Currently, she is pursuing her MM in Music Composition from Pennsylvania State University studying with Dr. Baljinder Sekhon.
Website: https://emilymcpherson-composer.com/
Kaitlin Pet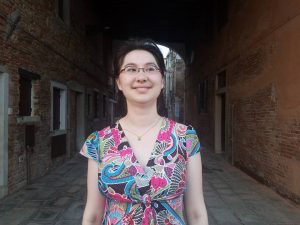 Kaitlin Pet is an Informatics PhD student in the Indiana University SICE school of Informatics, Computer Science and Engineering. Her research focuses on many aspects of music and artificial intelligence, including music visualization, score following-based live media which predicts a soloist's next note in real time, and improving the technology around remote chamber and orchestral playing. She holds a BA in Biology and Computer Science from Columbia University and a GPD from the Hartt School in oboe performance, where she concentrated on chamber performance. Kaitlin is passionate about new music and has performed in multiple venues with the Hartt's Foot in the Door contemporary ensemble, including the 2019 CBDNA conference at Arizona State University.