---
Thank you to Dr. Anruo Cheng for mastering the mixtape audio!
For the video to "Alien, Cabbage, and Me":

---
Human Becoming by Cory Brodack
Cory Brodack (b.1997, St. Louis) is a composer whose music is "at times ethereal, with masterful weaving of timbre and tone; and at times energetic, almost brutal, with unrelenting drive," (Donovan Seidle, Calgary Philharmonic). His music ranges from deeply personal and reflective to explosively bombastic, often within the same piece. He has been awarded the Rudolf Nissim Prize, ECU's Orchestra Composition Competition Prize, and first prize in the National Federation of Music Clubs Young Composer Competition, among other honors. Cory has worked with performers and ensembles including JACK Quartet, Hub New Music, Unheard-of//Ensemble, icarus Quartet, Hypercube, and Rhythm Method String Quartet. He has also received commissions from artists and groups such as Andrew Pelletier, Bowling Green State University, the Metropolitan Orchestra of St. Louis, and the Steven Gerber Trust.
His music has been featured at concerts and festivals including the SCI National Conference, Hot Air Music Festival, Bowling Green New Music Festival, UNG's Research on Contemporary Composition Conference, and New Music on the Bayou. He received his MM in Composition from Bowling Green State University, his Bachelor of Music from Southern Illinois University Edwardsville, and is currently pursuing his PhD in Composition at the Eastman School of Music.
Program Notes
Human Becoming takes its name from Rosemarie Rizzo Parse's nursing theory of "Human Becoming." The theory was first published as "Man-Living-Health" theory in 1981, and renamed to "Human Becoming" in 1992. The theory serves as an alternative to most other nursing theories' biological, psychological, social, and spiritual approaches. Parse rates quality of life based on each patient's self-perspective and personal goals. The theory is based on three main concepts – Meaning, Rhythmicity, and Transcendence, which each form a separate section of the music. "Meaning" refers to human priorities being influenced by lived experiences. "Rhythmicity" states that an individual "co-creates" with their environment, forming rhythmic patterns and relationships based on life values and the frameworks that self-perspective put on the universe. "Transcendence" gives the idea of a person's constant self-transformation, by reaching beyond an assumed limitation to open new possibilities.
Links
https://linktr.ee/corybrodack
Dil-e-Nadaan by
Arjan Singh Dogra
Arjan Singh Dogra is a composer and performer based in New York City who creates art to understand and contextualize his relationship with time, nature, and his culture. He invites audiences experiencing his art to challenge their own perception of time, and reflect on their connection to the natural and unnatural environments that surround them.
Arjan recently graduated summa cum laude from the Berklee College of Music, studying with Alla Cohen and Marti Epstein, and is now pursuing a Masters in Composition at Mannes, studying with Chris Cerrone. He also grew up studying Indian Classical violin with Dr. Sisirkana Dhar Choudhury. Indian Classical music plays a key role in Arjan's writing and performance practice, and it is such training that informs key compositional decisions in regards to harmony, structure, and pacing.
Arjan specializes in creating multidisciplinary works of art and regularly collaborates with filmmakers, game developers, dancers, and more, including partnerships with Juggernaut Entertainment, Boston Conservatory Dance, and UNICEF. His concert music has been performed by various ensembles including the Jack Quartet, the SEV ensemble, the PHACE ensemble, PubliQuartet, and the Berklee Contemporary Symphony Orchestra.
Links
Website: https://www.arjansinghmusic.com/
IG: https://www.instagram.com/darth_dogra/
YouTube: https://www.youtube.com/channel/UCIjbDIgqniyKSAwiNWyXjXQ
SoundCloud: https://soundcloud.com/arjan-dogra
highly volatile by Indigo Knecht
Indigo Knecht is a composer fascinated with the challenges people face as they navigate this world. Their music explores themes related to emotional turmoil, mental illness, and self-realization. Indigo's pitch material focuses strongly on the use of set theoretical methods, employing chromaticism and dissonance to convey musical ideas. Indigo has a BM in Music Composition from Bowling Green State University and a MM in Composition from University of Michigan. Indigo is currently pursuing a DMA in Composition from University of Miami. They have studied with Mikel Kuehn, Marilyn Shrude, Elainie Lillios, Kristin Kuster, Roshanne Etezady, Lansing McLoskey, and Dorothy Hindman.
Program Notes
highly volatile in all of its definitions. If you're uncomfortable, so am I.
Links
Website: https://indigoknecht.com/
Link Tree: https://linktr.ee/indigoknecht
Destroy the Reified Abstract Concrete Superstructure of Doom! by Solomon Kim
Solomon Kim is a composer-improviser and cellist, studying Music Composition and Economics as a Robert W. Woodruff Dean's Achievement Scholar and Stipe Scholar (active 22-23) at Emory University. His music explores the political/economic implications of artistic production and community-building as a means and goal of artistic expression. Solomon's work has been showcased in the United States, Japan, Germany, and Italy; recent venues include the Cremona Summer Festival (Cremona, Italy), International Christian University (Tokyo, Japan), College Music Society Southern Chapter Conference, Underground Atlanta, and the Michael C. Carlos Museum. Past collaborators for readings, workshops, and performances include Hypercube, the Emory Wind Ensemble, the Atlantic Music Festival Contemporary Ensemble, the American School in Japan Vocal Jazz Ensemble, and other groups across the United States, Japan, and Europe.
Solomon regularly performs at events around Emory and Atlanta, including with the Atlanta Improviser's Orchestra/Chorus, Emory CompFest, the Nakatani Gong Orchestra, and Emory student musicians. He was a finalist in the 2023 Emory Concerto & Aria Competition. Solomon has also presented his research on popular music at various venues, including the Research on Contemporary Composition conference at the University of North Georgia.
Program Notes
Destroy the Reified Abstract Concrete Superstructure of Doom! is a piece that knows enough to use a lot of big words, but not enough to know what they mean. Set as the last song at an open mic night, the piece pulls influences from shoegaze to contemporary "art music" to jazz and sets them for the baritone sax and electric guitar. Improvisational textures are captured and conformed to the structure of phrase, measure, and tempo. Radical language is captured and repurposed for art — in a similar way, grassroots social movements are co-opted and incorporated into existing institutions and political structures. This piece offers a critique of elements of contemporary music today — but we must also acknowledge that it works in the same language, structure, and history.
Links
Website: solomonkim.me
Instagram: instagram.com/solomoncomposes
Alien, Cabbage, and Me by Yi-Ning Lo
Yi-Ning Lo, currently based in Rochester New York, is a composer, pianist, and educator from Taiwan. Throughout her career, she has found ample inspiration for both vocal and instrumental compositions from literature, ranging from western poems to ancient Chinese poetry and Japanese haikus. These vocal works include Into a Woman's Lunacy, About Solitude, Blackmud, and The Tune of Ru Meng Ling. Her current project combines sounds, literature, and theatrical elements. In addition to vocal music, Lo has extensive experience writing for instrumental and electronic music. One of her ensemble works, Woven Veins, won the Christine Clark/Theodore Front Prize in 2019. This piece was later broadcast on the radio show "Music of our Mothers", and honored in the fall journal issued by the International Alliance for Women in Music. Lo finds great enjoyment in composing pieces based on the topics of womanhood, dream, and memory.
Program Notes
"Alien, Cabbage, and Me" was written for one performer and laptop where each pressed key corresponds with a designated sound. The subject matter revolves around the composer's own language-learning experience: a non-native speaker looking into the bizarre realm of the English language. The composition leads the audience through the produce section of a grocery store, exploring the peculiar and whimsical, yet fascinating names of fruits and vegetables.
Links
Website: https://www.yininglo.com/
The Boat and the Sea by Ky Nam Nguyen
Ky Nam Nguyen (b. 1996) is a current DMA candidate in Music Composition at Florida State University. Nguyen earned her BM in Piano Performance at North Park University and a MM in Composition at Texas Tech University. Passionate about crafting the music that transcends cultural boundaries, she creates a connection between her Vietnamese spirit with the profound influences of Western classical education. One of Nguyen's achievements includes the premiere of her choral composition, 𝐵𝑢𝑑𝑑ℎ𝑖𝑠𝑡 𝑃𝑜𝑒𝑚𝑠 𝑓𝑟𝑜𝑚 𝑉𝑖𝑒𝑡𝑛𝑎𝑚, at North Park University in 2022. She later presented this work at the 2023 Composition in Asia Symposium and Festival held at the University of South Florida. In the summer of 2023, Nguyen participated in the Oregon Bach Festival Composers Symposium, in which she composed and premiered 𝐴𝑛𝑖𝑜-𝑠𝑎𝑛, 𝑂𝑢𝑘𝑎𝑘𝑢𝑡𝑎𝑚𝑒 for the Đờn Tranh (Vietnamese zither), Shakuhachi (Japanese flute), and Balinese Gamelan Ensemble.
Nguyen actively engages in various activities to explore diverse peoples and cultures. In 2021, she volunteered as a Professional Music Consultant for Lullabies of the Rivers Project, funded by the British Council in the run-up to the 26th United Nations Climate Change Conference of the Parties. These experiences significantly contribute to her vision of using music to promote intercultural understanding.
Program Notes
I composed 𝑇ℎ𝑒 𝐵𝑜𝑎𝑡 𝑎𝑛𝑑 𝑡ℎ𝑒 𝑆𝑒𝑎 as a celebration of my first love. This piece is inspired by a poem by Xuân Quỳnh (1942–88), one of the most well-known female poets in Vietnam since the twentieth century. Her poem, "Thuyền và Biển" [The Boat and the Sea], is a love letter that describes a woman's heart through several stages of love. At first, she is a mysterious sea, so enticing yet far away. Then, as her heart grows fonder, she is like gentle ripples, but some other times, she becomes vehement waves that push the boat for no reason. And if she is ever separated from her love, all that remains in her are tumultuous storms.
In the performers' score, I quote lines from the poem at the beginning of each musical section to suggest the desired characteristics of the music.* Several extended techniques for the alto saxophone and percussion imitate sounds from the ocean, such as winds, storms, moving sand, the seagulls' chirping, and whales' vocalization. For the electronic percussion, I use the recordings from A Collection of Sounds from the Sea on the website of NOAA (National Oceanic and Atmospheric Administration)** as the sound samples.
* The original Vietnamese poem and my English translation is included in the Appendix at the end of the score.
** Visit the NOAA website here: https://oceanexplorer.noaa.gov/explorations/sound01/background/seasounds/seasounds.html.
Links
Website: https://kynamnguyen.com/en/
Facebook: https://www.facebook.com/kynamnguyen.composer/
EO DOOG SHI NI by Hanee Park
As a composer, pianist and music educator, Hanee Park has been exploring how music engages with culture, history, literature, philosophy, and other arts to pursue her belief that music must go beyond music. Recently, her solo double bass work, 'Stagger, staggered, had staggered' has received an honorable mention for PatsyLu Prize from IAWM. Also, Eodoogshini premiered at the Composition in Asia Symposium's concert in Tampa this year. Her compositions have received many performances, including the Bent Frequency at CNMF, Composers Who Brunch series, and The Rocking Chair series. With her educational belief that music is one of the greatest tools that people can teach passion, humanism, and cultures, she has taught composition, music theory and piano for years.
She has earned the Bachelor of Music at Ewha Womans University in South Korea, where she studied with Ju Hee Jung, and the Master of Music at Roosevelt University in Chicago, where she studied with Stacy Garrop and Kyong Mee Choi. Currently, she is a DMA candidate in music composition studying under Clifton Callender at Florida State University, where she was the recipient of the Ellen Taffe Zwilich Fellowship in 2019 – 2020.
Program Notes
EO DOOG SHI NI (어둑시니) for unaccompanied alto saxophone is inspired by Korean traditional folklore. Eo Doog Shi Ni is a God-level of existence which is related to darkness and nightmares. It sneaks into people's dreams and traps them in repeated nightmares, recalling their personal trauma or bad memories, which shows how people thought and understood the fear of the darkness and the nightmare at that time. I tried to express how people back then felt the fear of Eo Doog Shi Ni, and its eeriness, scariness, and ruthlessness. This piece is commissioned by Caleb Shannon, a saxophonist based in Michigan.
When They Broke Down the Door by Sepehr Pirasteh
Sepehr Pirasteh is a compose, conductor, and activist born in Shiraz, Iran. His compositions draw on Persian classical and folk as well as contemporary classical music vocabularies to express his concerns and fears about the political and social realities of the world we are living in. Sepehr's works have been performed by ensembles such as Argus String Quartet, PRISM saxophone quartet, MISE-EN Ensemble, Pushback Ensemble, Unheard-of Ensemble, Orquestra Criança Cidadã, Hole in the Floor, fivebyfive, and members of the Fifth House Ensemble. He has been commissioned by Susan Horvath Chamber Music, ENA chamber opera ensemble, Philadelphia Student Composers Project, Detroit Composers' Project, YInMn project, Pushback Collective, Fresh Inc. Festival, Yara Ensemble, Central Michigan University's (CMU) Percussion Ensemble, and the CMU Saxophone Ensemble. His music has been performed in Argentina, Brazil, Iran, and the United States. Sepehr has also been a fellow in festivals and residencies such as Harvard University's Fromm Foundation Fellowship (Composers Conference), CCI Initiative, and Fresh Inc Festival. Sepehr currently is a Ph.D. student in Music Studies at Temple University. He is based in Philadelphia and plays Persian Kamancheh and Tanbour with different ensembles.
Program Notes
When They Broke Down the Door is based on a poem by Fatemeh (Shahrzad) Shams, professor of Persian Literature at the University of Pennsylvania, and translated by Dick Davis. Dr. Shams's work intimately portrays brutal moments of prosecutions, torture, and execution, while intertwined with a devastating loss of love. My composition emphasizes these complexities within a suppressed and violent political atmosphere.
When they broke down the door
I was in your arms. Like a freezing cold lullaby curled in your ear
When they broke down the door
you gripped me tightly,
I was the clothes on your body, on that night filled with fear
Beneath their kicks and their curses
you were naked and I was naked
I was your body, dripping blood, unconscious, my dear
You fell, and your calm gaze faltered and failed,
As though I were something you'd forgotten, year after year
When they took you I was a grief-stricken cry,
A silent sea where your fabulous creatures appear
I was a sadness cracked open, calm in the midst
Of your file that was folded now, smudged and unclear
And though they have hanged you,
in memory's Image,
I see myself there,
in your arms,
my dear.
Links
Website: www.sepehrpirasteh.com
Instagram: instagram.com/sepehr.pi
Xenexhibition by Dmitri Volkov
Dmitri Volkov primarily operates within the realms of music and computer science, both of which he currently studies at IU Bloomington, within the Jacobs School of Music and the Luddy School of Informatics, Computing, and Engineering. Musically, Dmitri is an award-winning composer who seeks to find the technical and academic boundaries to which music can be pushed while maintaining a rich emotional response; he is also an accomplished multi-instrumentalist who has performed alongside highly accomplished musicians, including members of world-famous orchestras such as the Baltimore Symphony, Dallas Symphony, and Metropolitan Opera Orchestras. With computer science, Dmitri is self-taught in C++/JUCE and Python, and has published several apps to the App and Google Play stores; he is currently developing Pivotuner, an audio plugin which enables adaptive pure intonation on keyboard instruments. Dmitri also wants you to know that he does not usually write in the third person.
Program Notes
As of writing, most audiences are not familiar with pure intonation; this piece is designed to serve as an introduction: to the sounds of pure chords, the sounds of microtonal modulation, and the sounds of subtle shifts in tuning of the same chord. To make this possible, I created a plugin, Pivotuner, to help enable these sounds on traditional keyboards, under the mentorship of Ben Bloomberg in the summer of 2021! The piece also explores some of the technical consequences of retuning and attempts to use these consequences in a musically convincing way.
Links
Website: https://www.dmitrivolkov.com/
---
SCI would also like to thank the adjudicators for their hard work in the selection process!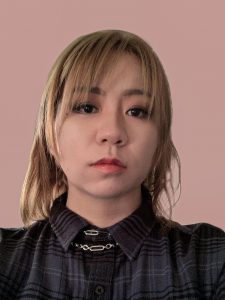 Anruo Cheng
Anruo Cheng, born in China, is a New York-based composer, educator, music producer, and electronic musician. Cheng is an adjudicator for SEAMUS Conference 2023 and music technology specialist for VoxNovus' COMPOSER'S VOICE Concert Series. She is also a composer featured in the "MUTED" project by pianist Eunmi Ko and New Music USA. Cheng was a former composition adjunct professor at Frost School of Music, University of Miami. Cheng holds a Doctoral degree in Music Composition and a Master's degree in Media Writing and production from the University of Miami. Cheng's music fields range from contemporary acoustic music, electroacoustic music, electronic instruments/installations design, popular music, and film music. She is a prize-winning composer whose works have been performed worldwide, including Aural Compass Projects Competition, NYC Electroacoustic Music Festival, N_SEME Festival, NYC Contemporary Music Symposium, Research on Contemporary Composition, Fifteen-Minutes-of-Fame concert, Stelvio Cipriani Competition for Film Music, and Chinese National Popular Music Competition. Additionally, many other works of hers were released by RMN Records, UK, and EMII Enterprise, US.
Wan Heo

Wan Heo is a Chicago-based composer whose works have been performed in South Korea, Hong Kong, Italy, Spain, and the United States. Her music was commissioned and performed by Yarn/Wire, line upon line percussion, Unheard//Of, New Music On the Point, and VIPA among others. Wan's percussion solo piece, Unveiled Future, has been published by Alfonce Production in Paris. Recently, she began her own research on the vulnerability of Korean landscape by touring and recording sounds at historical sites in South Korea. Her works on this project were presented at Composition in Asia conference, Society of Composers National Conference, North American Saxophone Alliance regional conference, National Student Electronic Music Event, and University of Miami's Composition Colloquium. Wan holds B.M. in Composition from Ewha Womans University in South Korea and M.M. in Composition from Florida States University. She is currently pursuing a PhD in Composition and Music Technology at Northwestern University under the guidance of Alex Mincek, Hans Thomalla, and Jay Alan Yim.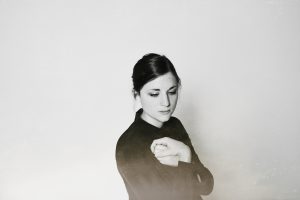 Molly Joyce
Molly Joyce has been deemed one of the "most versatile, prolific and intriguing composers working under the vast new-music dome" by The Washington Post. Her music has additionally been described as "serene power" (New York Times), written to "superb effect" (The Wire), and "unwavering" and "enveloping" (Vulture). Her work is concerned with disability as a creative source. She has an impaired left hand from a previous car accident, and the primary vehicle in her pursuit is her electric vintage toy organ, an instrument she bought on eBay which engages her disability on a compositional and performative level. For more information: www.mollyjoyce.com
Joshua Mallard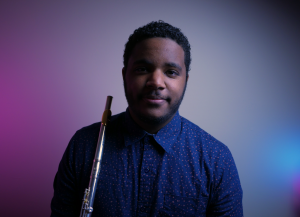 Joshua Mallard (b. 1998) is an award-winning composer currently residing in Austin, Texas. Mallard's eclectic body of work seeks to reshape musical idioms and embrace experimentation. He has worked with companies and studios such as Blipsounds, E-Line Media, Lunchbox Entertainment, and Forest Ring Games. This includes contributing to games such as TMNT: Splintered Fate, Beyond Blue (IOS), Sky Haven, Just Act Natural, and more. Mallard's works have been selected for many festivals including The 2022 UNK New Music Festival, Electronic Music Midwest 2022, NYCEMF, NSEME 2020, MuSE Sound of Arts Festival, and more.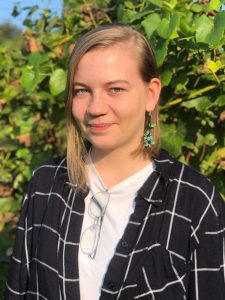 Treya Nash
Treya Nash is an English composer and creative coder based in Baton Rouge, Louisiana. Her areas of focus include chamber music, distributed performance, and electronic opera. Her work has been performed by ensembles such as Popebama, Ensemble Ipse, Bent Frequency, Hypercube, Homegrown New Music Ensemble, Quarteto L'Arriana, New Music Mosaic, Camerata Temporalis, PHACE, and more. She is currently pursuing her PhD at Louisiana State University, with Mara Gibson, Jesse Allison, and Steven David Beck. She has previously studied with Paul Koonce, Mark Engebretson, and Alejandro Rutty, and worked as Program Director for Charlotte New Music.
Armando Torrealba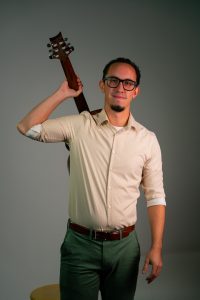 Armando Torrealba is a Venezuelan born composer whose music focuses on bridging the gap between contemporary classical, jazz, and popular music genres through the use of improvisation, complex counterpoint, and innovative instrumentations. Born in Caracas, Venezuela in 2000, Torrealba studied viola from an early age before moving to the United States in 2008 to escape political persecution under the Chavez regime. In the U.S, Torrealba continued playing viola, trombone, and eventually developed an interest in composition. This interest led him to devote his undergraduate studies at the University of Miami Frost School of Music to finding a distinct compositional voice, combining his heritage with his interest in new music. By the end of his four years at UM, Torrealba had developed a compositional style that combined different facets of the sounds of Miami. A style that leans on performer freedom and improvisation while providing a complex scaffolding of interconnecting lines of counterpoint and modal writing. He is currently working towards his Master's degree at the Frost School of Music where he teaches solfege, aural skills, and improvisation while continuing to evolve as a composer and performer.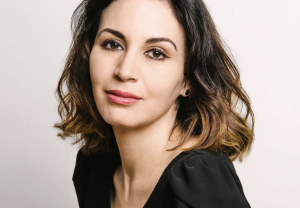 Leaha Villarreal
With works described as "visceral" (
Lucid Culture
), "propulsive" (
Bachtrack
), and "austere" (
New Music Box
), composer Leaha Maria Villarreal's output includes music for dance, film, opera, and the concert hall.
She has worked with organizations and ensembles such as Beth Morrison Projects and the Los Angeles Philharmonic; ETHEL and Friends concert series at the Metropolitan Museum of Art; andPlay; Wild Rumpus; JACK Quartet; Experiments in Opera; and TRANSIT New Music, among others. Past composition teachers include Roger Reynolds, Steven Kazuo Takasugi, and Chinary Ung. Villarreal holds a B.A. from the University of California, San Diego and an M.M. from New York University where she studied with Julia Wolfe and Michael Gordon. She is a co-founder of contemporary music ensemble Hotel Elefant; a Jerome Fund for New Music recipient; and taught with New York Philharmonic's Very young Composers Bridge Program. Villarreal is currently pursuing a D.M.A. at the University of Southern California.
ˈtoʊ-drɔ-ˈki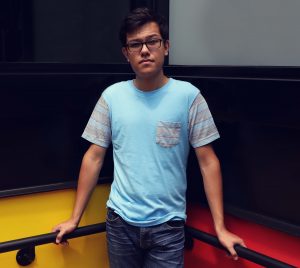 | ˈtoʊ-drɔ-ˈki is a composer framing pictorial properties found in visual art with organizing principles of philosophical, sociological, and metaphysical intent. These elements forge aural convictions that engage with intersectional experiences related to persecution, assimilation, and masking – a self-portrait. Their music has been described as "beautifully haunting" (Robert Avalon Competition), "patiently evocative" (George Lewis), and "unsettling, [yet] interesting" (Joshua Weatherspoon, Cycling '74), and has been performed by Hypercube, Duo Sequenza, and ensemble vim. ˈtoʊ-drɔ-ˈki has been featured at several festivals including the Aspen Music Festival, SEAMUS, and ICMC and has been commercially released with several labels including Navona Records, PARMA Recordings, Petrichor Records, and RMN Music. ˈtoʊ-drɔ-ˈki serves as Assistant Professor of Music Technology at Johnson University where they teach courses in computer music programming, sound design, synthesis, composition, instrument modeling, studio recording, and digital art. They serve as the Director of Equity, Inclusion, and Diversity for the Millennium Composers Initiative and as a composer-mentor for the Mississippi Valley Orchestra Emerging Composer Fellowship.