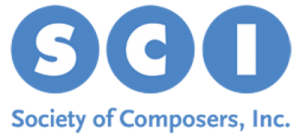 The Society of Composers Inc. is pleased to announce a call for submissions for the 2022 Online National Conference! We recognize the need for a national, peer-reviewed conference for our members, and despite the challenges that COVID-19 presented, we were thrilled with the feedback gleaned from last year's Virtual Conference. SCI is excited to continue our exploration of this virtual format, sharing music, knowledge, and ideas to create a meaningful experience together!
The conference will take place May 20-21 and May 27-28, 2022.
Deadline for submissions: April 20, 2022
Notification of accepted submissions: May 9, 2022
All concerts will be streamed live via the SCI YouTube channel; SCI will combine recordings into a single cohesive stream for each concert. All current SCI members will be eligible to attend the Workshops and/or Paper Presentations, but priority will be given to those who have submissions accepted for the conference. Attendance will be limited due to hosting capacity.
There are two categories of calls for this year's conference. Further details and applications for both categories can be found at New Music Engine by following the links below: